Are you looking for something simple and easy to cook in a camp oven that the kids will love, well try popcorn it's really cheap from the supermarket and really easy to do in a camp oven.
The first thing you need to do is get your camp oven hot, place it on your heat source, it doesn't matter if your using coals, heat beads or gas. and let it heat up Once it's hot, pour in some oil. two to three tablespoons is a good amount and let the oil heat up.
Now pour in a layer of popcorn in the bottom of the camp oven and put your lid on. And soon enough it will start popping away, you should be able to hear it.
Wait for them to pop and put them in a bowl and enjoy them with whatever flavouring you want I like mine plain with a bit of salt.
Anyway, camp oven lovers If you love that recipe, make sure you check out my website for over 50 free camp oven recipes.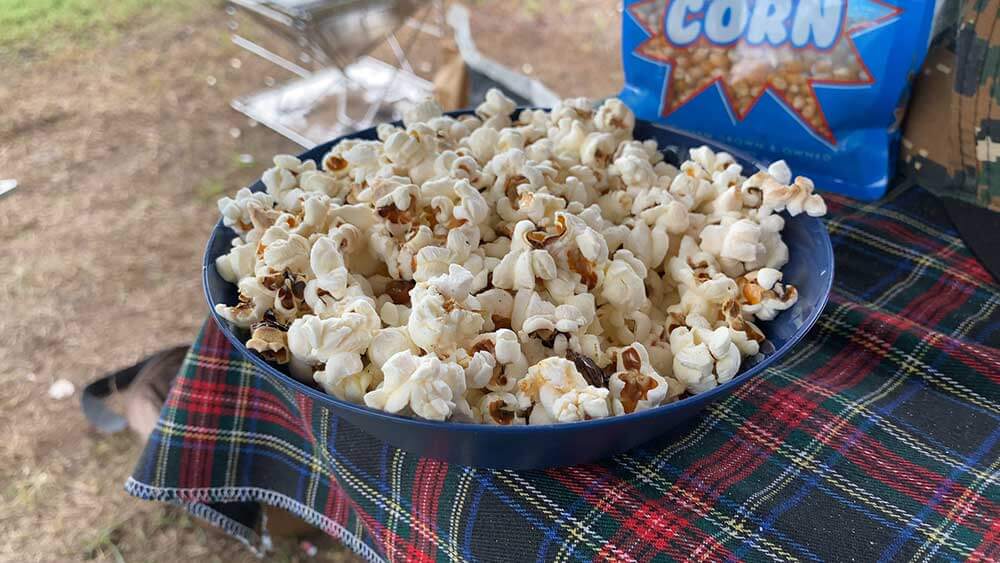 ---
Watch the Camp Oven Popcorn Video
---
Camp Oven Popcorn Recipe
Camp Oven Popcorn
Course: Entree Recipes, Misc Desserts
Cuisine: Australian
Difficulty: Easy
Heating Method
Bottom Heat
Ingredients
1x Bag Popcorn

4 Tablespoon of oil
Directions
Now that you have heated up the camp oven, Pour in 2 – 4 tablespoons of cooking oil and let the oil heat up.
Once the oven is heated up pour in a layer of popcorn and place the lid on the camp oven.
In a few minutes, they will start to pop if they don't your oven may not be hot enough.
Once the corns all poped, Put in a bowl and season and enjoy.
Notes
Use whatever you want to flavour your popcorn